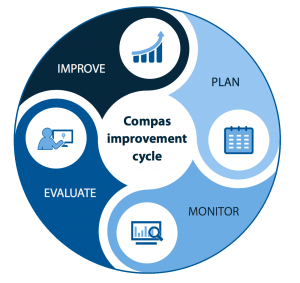 It seems appropriate, in this first post on the new Compas blog, to address two key questions: what is Compas and why is it of value to businesses and other organisations? Other posts will discuss specific features and show how they can help organisations to grow sales, shrink costs and increase productivity, but the purpose of this article is to provide an overview to help people to understand how Compas fits into their IT landscape, and can benefit their business.
A lightweight framework to support your business
The first thing to say is that Compas is not so much a product as a framework that organisations can adapt to their business processes as they wish. Like an ERP system, it integrates planning with other parts of the business, such that changes made to the plan flow through to all affected areas. However, unlike SAP, it does not cost a fortune and take years to implement. To be fair to SAP, Compas is not trying to be an ERP. It is a strategic planning and decision support tool, so it does not need to handle all the tricky operational complexities of running the business. In fact, the category of software that Compas fits into most neatly is called 'Enterprise Performance Management' (EPM) software.
This means that Compas can be much more lightweight than an ERP. Implementations are put together from the bottom up, including only those features that are needed. This makes for a more 'bespoke' solution, which is streamlined and maintainable, without the overhead of many unused features in the background.
Plan, monitor and evaluate in one environment
One key feature of Compas is that it combines planned and actual data into one system. This provides many benefits, and different people will find different aspects particularly valuable. For some, it will be the power of the marketing analytics to help them identify profitable marketing strategies and maximise marketing ROI. For others, it will be the ability to build detailed forecasts, driven by the marketing/investment plan, such that changes to the plan flow seamlessly through to Operations and Finance, enabling them to react rapidly. Marketing and Operations will also find the ability to monitor the performance of current marketing campaigns of great value. By helping to build a daily sales forecast, Compas makes it easy to keep track of performance: quickly highlighting potential problems with a mailing, for example, and allowing Marketing to adjust the forecast up or down if appropriate. Compas can even reforecast a marketing campaign automatically, freeing up a data analyst for more value-adding work. Other businesses use Compas for supply and demand modelling, as the forecasting tools can equally well be adapted to modelling future supply as demand.
For many businesses, the planning process starts in Excel. For some, it ends there too, but for others, there are a series of complicated steps to convert a spreadsheet marketing plan into a series of other forecasts
daily orders for Operations, phone calls for the call centre, weekly or monthly financials for Finance. In some cases, Marketing, Finance and Operations build their own independent budgets which bear scant relation to one another, so it is impossible to say with certainty what 'the budget' looks like. Typically, actual sales will then be recorded in a different system from that in which the budget is stored, requiring a time-consuming and error-prone process to build reports of actual vs plan.
Let Compas do the heavy lifting
All this is made very straightforward in Compas. Although it can be used in a variety of different contexts, a typical workflow in Compas in a marketing environment is as follows:
The user plans a marketing campaign, including its start date, likely response, sales profile and associated revenues and costs.
The system automatically builds a phased order forecast at a daily or weekly level (as appropriate) from the campaign
Compas also builds a weekly profit and loss (P&L) forecast for the campaign, which feeds into the overall company P&L and allows the campaign to be pre-evaluated for profitability
If the campaign is expected to trigger any recurring subscription revenues from all or some of the respondents, these can also be modelled automatically
The forecasts from the campaign are integrated with those from other campaigns to build overall forecasts for the company or business unit
When campaigns are moved, changed or dropped, Compas automatically recalculates all of the knock-on effects on the business
The marketing plan and sales forecasts can be frozen at any stage to create a snapshot against which to report. The budget, and subsequent restatements, are examples of such snapshots
When actual orders start to come in for a campaign, these can easily be compared with the plan and immediate action taken if there is a problem. If necessary, the estimated final response to the campaign can be updated, which will update operational and financial forecasts too
When all the results are in for a campaign, it can be evaluated within Compas, both against plan and on its own merits. The results are all stored in a marketing database, which allows more sophisticated analysis of a range of campaigns, to learn what works and what doesn't, and how to maximise marketing ROI
For relationship businesses, Compas can also calculate lifetime value per recruit, including modelling future revenues.
This approach can be used in any situation where marketing campaigns are a significant driver of sales, particularly direct to consumer sales and promotions conducted by manufacturers or retailers. As mentioned, it can also be used to plan other significant investments, or to model the balance between future supply and demand.
So, what is Compas, and why should you use it?
What is Compas? It's an integrated tool for planning, monitoring and evaluating marketing and other business drivers. It is more powerful and less risky than using a spreadsheet for planning or budgeting, and much cheaper and simpler to implement than a bespoke system or an ERP. It provides powerful marketing insights, and facilitates reporting and monitoring of performance against plans - not just the original budget, but subsequent updates too.
Why is Compas of value? All businesses can benefit from accurate forecasts and sharp insights into marketing effectiveness. But as well as providing these, Compas delivers a host of other benefits, ranging from saving time and money to helping businesses to quantify the value being added by their Marketing department. Beyond its core functionality, it also provides a sound framework, based on an enterprise-strength Oracle database, on which to build other tools and models. Big Data, AI, Machine Learning etc. all depend on having clean data, a robust platform and good business processes.
A recent report by Forbes CMO practice highlighted a relentless drive among businesses to make marketing departments more accountable, and an ever-increasing pressure to quantify the contribution of marketing to growth, profits and enterprise value. In a survey of 800 marketing executives, they found that high-performing marketers (those exceeding growth plans by over 25%) are achieving significantly better returns on marketing investment by investing in data-driven marketing approaches. For organisations that want a simple and inexpensive  way to optimise their marketing ROI, Compas provides the perfect solution. Contact us now to arrange a demo. In the meantime, this article from Direct Commerce magazine provides further information.