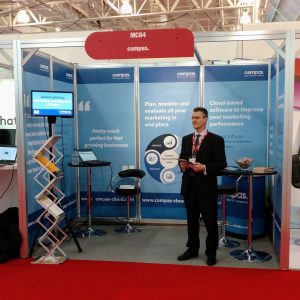 This year, we will again be exhibiting Compas at Marketing Week Live in Olympia on 6th and 7th March. It is always an excellent show, with lots of innovative and exciting marketing technologies and services on display. Last year, our talk, outlining how Compas can support a data-driven approach to marketing planning and analysis, was very well attended and received much positive feedback.
This year, we will not be speaking, in order to devote all our attention to providing in-depth consultations and demonstrations at our stand (stand MF62). We find that when people get a chance to see Compas for themselves, they really understand how it can streamline their operations and help them to trade more profitably.
The powerful multidimensional database underpinning Compas can help organisations to plan in more detail, and with much less business risk, than the spreadsheets that it typically replaces. At the same time, having sales data flow into the same system means that plans can be updated, and forecasts improved, in real time, based on actual sales to date. This leads to a virtuous cycle whereby analysis of past activities can help optimise the future marketing strategy. Finally, all related forecasts (for Finance, Operations, Customer Service etc.) are driven from the same marketing plan, so that changes to it instantly update the forecasts for these departments, enabling them to update their own plans appropriately and in good time.
For a business of a reasonable size, operational savings in terms of reduced inventory, optimised staffing and improved margins can mean that an investment in Compas pays for itself within a year or two. However, improved profitability leading from the marketing insights it generates can dwarf these savings and means that Compas can be one of the most rewarding investments you can make.
Come by stand MF62 at Marketing Week Live to see for yourself, or contact us to arrange a meeting and demonstration.